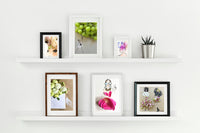 MooMooi ™ by Meredith Wing
Fun fashion illustrations made with real flowers, plants, and fruit and then photographed! These are beautifully produced, two-dimensional digital prints that are ready to hang.
Meredith (aka @moomooi!) has always been creating. Initial training in fashion design and architecture has come together in three-dimensional drawings that celebrate everyday material from broccoli to flower petals. Her #SomeFlowerGirls illustrations rapidly gained a loyal following on Instagram in 2014.
She has acted as Artist-in-Residence at Soho House for Coachella 2015, created Herbal Essences tv commercials and advertisements, produced limited-edition packaging for Burt's Bee's, graced the walls of Tokyo public plazas, assembled bespoke portraits for Tory Burch, adorned the interior of Cosabella's NYC store, and landed features in Town & Country as well as numerous other international publications.
Renowned clients include: Burt's Bees, Herbal Essences, Town & Country, Soho House, Chantecaille, Feel Unique, Pantone, Coach, Grey Goose, Patron, Tacori, Forevermark - DeBeers, Cosmopolitan, Rebecca Minkoff, Cosabella, MUSE, Rabat, Strasburgo, Becca.